So after months of teasers we finally have an official trailer from Rockstar - Red Dead Redemption 2 is happening, and its coming out next year.
The trailer teases a few new features for the game such as Bow & Arrows, Heists and Crocodiles but heres 5 things we would love to see in the new game;
3 playable characters
As Red Dead Redemption is made by the same people that make Grand Theft auto a lot of these ideas on this list come from the moves they made on GTA5. Having three playable characters varies the storyline and the way you interact with the game. To go one step further we would love to see a cooperative missions allowing two or even three characters to be controlled at the same time via multiplayer. 
Better gang warfare
Gangs are a big part of RDR and so we would like to see this built on. More territory wars, more alliances, gang wars in the background that you can choose to interact with. One really cool feature would be that if a gang leader was killed he is replaced by a survivor of the shootout with a vengeance to take you out!
More crimes 
Its all well and good to know that if you shoot someone in front a witness, you're going to be hunted down by the sherifs. However we would love to see crimes happening around you, keeping those sheriffs (and bounty hunters) busy!
Big improvements on the online multiplayer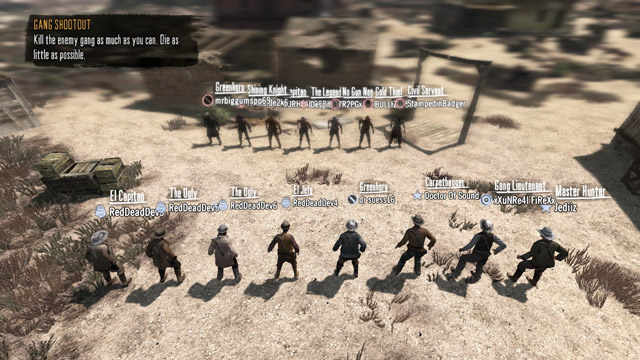 The online multiplayer on RDR was a bit rubbish. Having seen the advancements in the GTA series we think online will be a big part of the game, perhaps being available early on rather than just at the end of the story mode (more on that later).
A bigger focus on gangs is needed, with players being able to form smaller gangs and perform heists alongside the hundreds of online missions to earn money. How cool would it be if you could raid a rival gangs hideout - win and you take whatever is stored there. Loose and risk being counter attacked. More money would get you a better hideout and more guards, for times when you are over trying to raid next doors loot.
No permanent ending
Is that a spoiler? We don't think it is. Anyway, the ending of the first RDR was a bit disappointing as you had to follow a certain route and once it was done it was done. Again, like GTA we would like to see the single player mode be available to continue once all the missions are done. This could definitely happen if they did make the online side of things available sooner in the game.



What do you think? What else would you like to see? Will you be buying the game next year?